What's the H.C. Andersen 2005 Bicentenary Birthday Project ?

April 2, 2005 was the bicentenary birthday of Hans Christian Andersen, a Danish poet and fairy tales and stories writer who has been popular for long time in Japan with his works like "The Ugly Ducking," "The Little Mermaid," and "The Emperor's New Clothes." In Denmark a grand birthday ceremony was held on the day with the presence of Danish Royal family and with the Hans Christian Andersen Ambassadors from all over the world. A variety of events will be going to take place at various sites in Denmark this year.

"H.C. Andersen 200 Years Project Asia" is a private project established for purpose of promotion of various projects in Asia to review and revaluate of his great accomplishment. At the outset the project started in Japan, and now we actively evolve it in East Asia like Korea and China. We hope that in this occasion many Asian people are going to read Andersen's tales and stories again, and we would like to promote the growth and progress of the cultural projects.

After the preliminaries from 1997 we finally started the real activity in April of 2000. We promoted, as the first event, the exhibition "Gift from a World of Dreams - Original Illustrations from Andersen's fairy tales and picture books, original paintings exhibition" in seven museums over Japan from August 2000 to November 2001. More than 100,000 visitors came to see and enjoy the exhibition and it was a great success.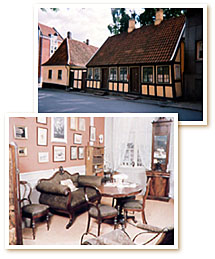 In 2002 the above-mentioned exhibition went around four museums in Taiwan, and four museums in Korea from spring of 2003 to the end of October 2004. (Total visitors: 400,000) Then the exhibition is now going around in China as a main event of H.C. Andersen 2005 Bicentenary Birthday Project in China. It started from in Shanghai last December, and visits 7 cities by the end of July 2005. We hope many Chinese people are taking all the fun of the exhibition.

The second exhibition "The International Hans Christian Andersen Awardees Exhibition" was held in total six museums in Japan and Korea from July 2003 to August 2004. This exhibition was also successful with a large number of visitors.

"-To travel is to Live- H.C. Andersen 2005 Bicentenary Birthday Exhibition" is now going around 8 sites over Japan as a main event of the bicentenary birthday project. You can see the treasures from H.C.Andersen Museum in Odense, Denmark, original paintings for Andersen's picture books and memorial posters in this exhibition. Come to see and enjoy them.

We, H.C. Andersen 200 Years Project Asia, are going to promote a variety of events in Asian area from now on with cooperation of "HCA2005" Foundation, Denmark Embassy in Japan, China, and Korea, and Scandinavian Tourist Board and others. It would be great pleasure that all of you receive the message from Andersen, the King of fairytales, beyond 200 years, through this H.C. Andersen 2005 Bicentenary Birthday Project.





H.C. Andersen
Bicentenary Birthday Exhibition

This exhibition will totally show you Andersen's life and works against the background of that time, with the original manuscripts, sketches, paper-cutting artworks and many treasures exhibits from the H.C.Andersen Museum, Odense in Denmark.
In this exhibition, the original paintings for "Andersen's picture books series", the original paintings for posters of H.C. Andersen Bicentenary Birthday project -- 20 world-famous artists originally painted for the project --, and various Andersen's book published in Japan over Meiji, Taisho, and Showa periods are exhibited. We promise that all of you, even old and young, will have much fun in this exhibition.

Exhibition Schedule

March 19 - April 20, 2005
Ilf Doga-kan / Canora Hall(Nagano)

April 24 - June 14, 2005
Kurashiki Tivoli Park (Okayama)

June 18 - July 13, 2005
Hiroshima Museum of Art (Hiroshima)

July 17 - August 14, 2005
The Museum of Modern Art, Shiga (Shiga)

August 20 - September 11, 2005
The Seibu Department Stores Sapporo Gobankan Akarenga Hall, Loft 7F(Hokkaido)

September 16 - November 7, 2005
Hokkaido Obihiro Museum of Art (Hokkaido)

November 19, 2005 - January 22, 2006
Maruyamagawa Kouen Museum, Hyogo (Hyogo)

February 1 - April 3, 2006
Printing Museum, Tokyo (Tokyo)